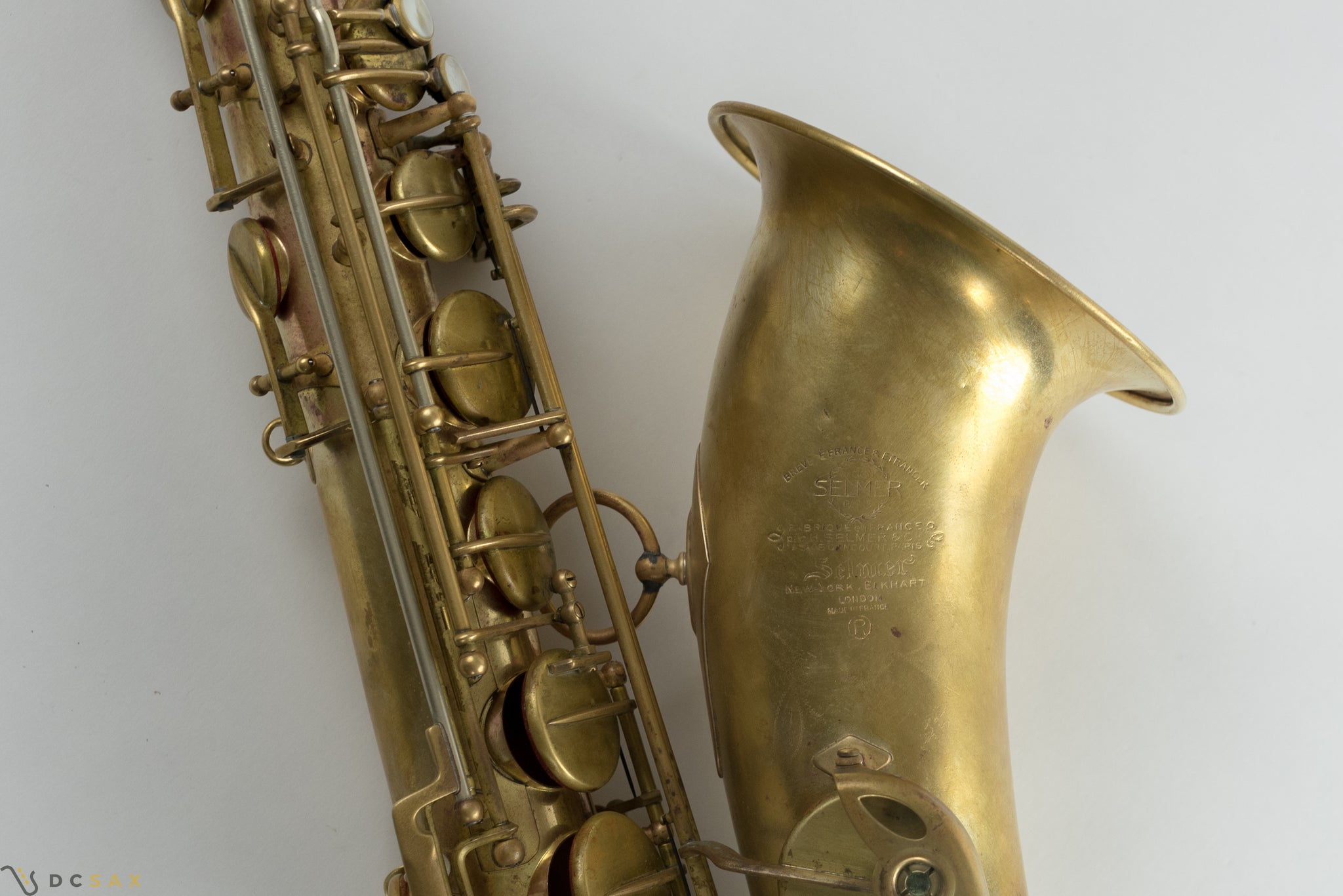 85,xxx Selmer Mark VI Tenor Saxophone, Video Demo
85,xxx Selmer Mark VI tenor saxophone. Here is a gorgeous Mark VI tenor that is right smack in the middle of the best range of tenors Selmer ever produced. Michael Brecker played on horns in this serial number range. They tend to have a gorgeous sound and take in air remarkably evenly and naturally. There's a compactness to the sound that is both powerful and complex.
This horn is in excellent playing condition. The sax has mostly red treated pads with Noyek resonators with a couple replacements. The previous owner kept the sax in great playing condition, so it didn't need much when it arrived. My repairman performed a full service and cleaned the horn. There is almost no lacquer left, and it appears to have been stripped. The engraving is quite faded, so my guess is that it was relacquered at some point in its life, which is fairly common with 5-digit Mark VI's like this one. The neck is original and has a matching serial number.
The bow brace was replaced at some point as well as a low C key guard foot. If you look closely, you can see a seam between the Eb tone hole and the bow guard. The Eb tone hole was also repaired at some point. My guess is that the horn was dropped and a repairman did this work to fix the dent. The neck taper/angle also looks like it has been adjusted in the past. My repairman is rarely complementary of previous repair work, but he praised the work done on this horn. Whoever did the work and maintenance did a fabulous job on this horn, because the sax feels tight and locked in throughout the entire range. The sax comes in a brand new top of the line Bam Cabine case.
If you're looking for a top of the line Mark VI that you'll never have to upgrade, this horn is worthy of your consideration.